To purchase a copy of this book visit


Visit the
Miramax Cafe

The Wings of The Dove
Cast:

Kate..........Helena Bonham Carter

Merton.....................Linus Roache

Millie...........................Allison Eliot

People say that screenplay writer Hassein Amini has taken great liberties with Herny James' novel set back in 1910. Oh yeah? So what else is news in Tinsel Town? Apparently British film makers aren't entitled the same! Now ask me if I care at this rate! Normally I would, but for once I actually saw a film based on a novel that hadn't read first.
The story takes place in 1910. Kate and Merton are in love. Problem: Kate can and will not marry Merton due to the fact that he has no money. If she does marry Merton she will be disowned by her wealthy Aunt. What to do? Viola! Along comes wealthy dying Millie! Kay works to set up Merton with Millie in hopes that something comes of the the two, insuring that Merton will inherit Millie's fortune. We'll leave it at that!
The Wings of the Dove is absolute eye candy in the physical sense (and to a certain degree the intellectual sense as well). Everything from locations to costumes. The film is somewhat predictable and that's okay. What is wonderful is the inactions of the characters and the performances of the actors.
Helena Bonham Carter (A Room With A View) in the role of Kate Croy is a breath of fresh air! She has lost her innocence, she is no longer the victim,prey, and no longer simply set decoration! She is worldly and knows what she wants without being a total witch! Kate is actually a nice person, someone you would like to have as a friend! She is witty, intelligent and has a sense of warmth, it's just the lack of money that seems to get in the way. However, that's pretty typical! In all of Kate's scheming she is not totally repulsive.
Allison Elliot (Spit Fire Grill) is radiant as Millie. She is charming and innocent as they come. Enjoying the company of her new found friends and all the joys that life can offer. She has an eye for Kate's Merton. I was unfamiliar with Ms. Elliot's work until this film. See is definitely worth keeping an eye out for. Ms. Elliot's brings a bit of worldliness to Millie's innocence! Unfamiliar with Ms. Elliot's work until now. I'm convinced she is well worth watching for.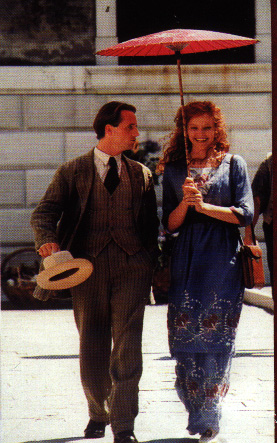 Now, we get to Linus Roache's (Priest) Merton! Rumor has it that Ralph Fiennes had been offered the role of Merton. The idea of Fiennes in any role is always a cause for excitement. However, in retrospect I wonder how his Merton would have have worked. Mr..Roache's Merton. Just as the roles of Kate and Millie his is subtle with just a smidgen of humor! We can only guess what exactly Fiennes would have brought to the role. However, I'm not at all disappointed. Roache's Merton is just right in my book. He has wonderfully sad brown eyes! I take more time with Merton's character simply because it is a role that could have been played several different ways!

One of my favorite lines in the film is when. Kate tells Merton that Millie is American, Merton's reply in his dry humor is I know! Kate asks how did he know. He replies ...By her laugh! A reply that totally caught me off guard!
To be perfectly honest I haven't read Henry James' book. I wonder if James 'Millie will be as delicate. Especially since Millie is actually the main character of the book. Or will she come off as very American. Will Kate be more loathsome?
It disappoints that The Wings of The Dove was not nominated for Best Picture and even best supporting roles by the Academy Award. It should be enough I guess that at least Ms. Carter has been nominated as Best Actress and it has been nominated for Best Costume Design. --Sigh--